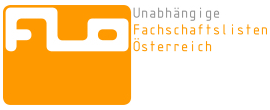 FLÖ (Unabhängige Fachschaftslisten Österreichs) is our head organisation at federal level. FLÖ as an independent fraction aims to offer students comprehensive advice, information and service und to represent you in a constructive way to the University as well as the government. FLÖ is an association consisting of different local groups like our new founded FLUS in Salzburg.
The basic idea of FLÖ has always been to put the students into the center of the University politic. Therefore, they engage for an objectively, fact-based and transparent work in the ÖH which includes as many students into their work as possible.
If you want to know more about FLÖ, click here.